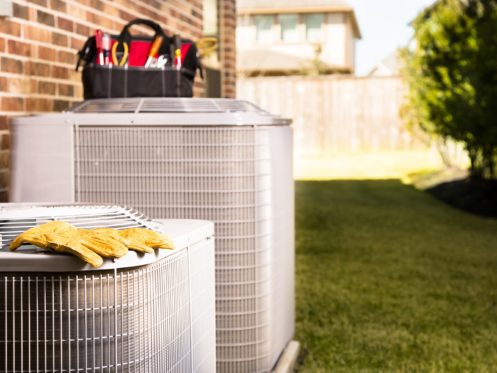 It is in everyone's best interest to make the most of their investment in a heating or cooling system by maximizing the amount of time they spend using it. The average HVAC system lifespan is approximately 15 to 25 years. However, this estimate can vary depending on the type of system and any other relevant contributing elements. Follow the following tips to extend the life of your unit.
HVAC Maintenance
Even though HVAC systems do not require an especially high level of maintenance, they should still be serviced at least twice a year. You should have your system inspected, cleaned, and repaired as necessary. It is best to schedule heater maintenance in early fall before it gets too cold so that it is ready to function effectively in those chillier months, while do your AC maintenance in early spring to prepare it for the warmer months.
A tune-up will typically consist of a comprehensive inspection of all moving parts and lubrication of those parts, cleaning the condenser, checking the refrigerant levels, replacing filters, inspecting the heat exchanger for any damage, etc.
How Often To Change Air Filter
Although your HVAC specialist should inspect your filters during these bi-annual inspections, you should check and change them often to ensure they are performing to the optimal level. Most households use disposable fiberglass filters that last 30 days or pleated filters that last three months. If your HVAC system's air filter is dirty, it will have to work harder to circulate that conditioned air through your home. This can be particularly stressful on the fan, although the entire system malfunctions if the filters are too dirty.
Inspect HVAC Condenser
Your air conditioner's condenser is located outside your home and is designed to withstand the weather. However, it can be damaged by hail or debris from strong storms. Examine your condenser regularly, especially after extreme weather. Additionally, remove any leaves or weeds that have accumulated around the condenser. Cut down any vegetation that is growing directly next to the unit. That way, the condenser will be ventilated properly.

Upgrade HVAC Insulation
If you use your HVAC system less frequently, it will have a longer lifespan. Insulation is the most important factor in maintaining the treated air inside the home. If you suspect that your home does not have enough insulation, the first place you should look is in the attic. You can always refer to the insulating climate map that the Environmental Protection Agency has created for advice on renovations. If you find that your home does not have enough insulation, it is recommended to install additional insulation or insulate your basement.
Use a Programmable Thermostat
The traditional "set it and forget it" method of 50 years ago may have been acceptable, but current technology makes it easy to customize a schedule and only use your HVAC system when necessary. It is no longer necessary to have your system run all day to achieve desired results. In recent years, programmable thermostats have advanced to the point where they can detect when you leave work. GPS technology will activate your air conditioner when you approach your residence.
Ease Burden on HVAC System
While smart thermostats are convenient, don't rely solely on them. Give your system and pockets a break by utilizing fans during the warmer months to maintain a comfortable temperature inside the home. This will allow you to raise the thermostat setting slightly and relieve your unit of any extra strain. During winter, set the thermostat slightly lower and utilize warmer clothing and extra blankets to reduce your energy consumption. Learn how to keep your home cool in the summer without air conditioners.
Rely on HVAC Technician
Campbell Comfort Systems has been serving West Deptford, NJ and the surrounding areas since 1993. We pride ourselves on being the top-rated home comfort provider in the area through our excellent customer service and quality products. We are partnered with Lennox to ensure that quality. Our main services include heating and cooling installation, repair, and maintenance. Our team also service boilers, heat pumps, mini-split systems, and water heaters. We even offer humidifiers, zoning systems, and indoor air quality solutions. Campbell Comfort Systems are NATE-certified and operate on a 100 percent satisfaction guarantee. Let us extend your HVAC system lifespan!
You can browse our website to learn more about specials, financing, and 24/7 emergency service. You can request service there as well or chat with our team about any questions or concerns. Contact us today!
Categories: